I've now been in Brazil for almost 3 weeks, taken 14 flights, shot 9 group stage matches and am now ready for the business end of the tournament.
Here are some highlights (or lowlights depending on who you're supporting) of the matches I've covered since my last post…
England fans turned up in Sao Paulo with such high hopes and expectations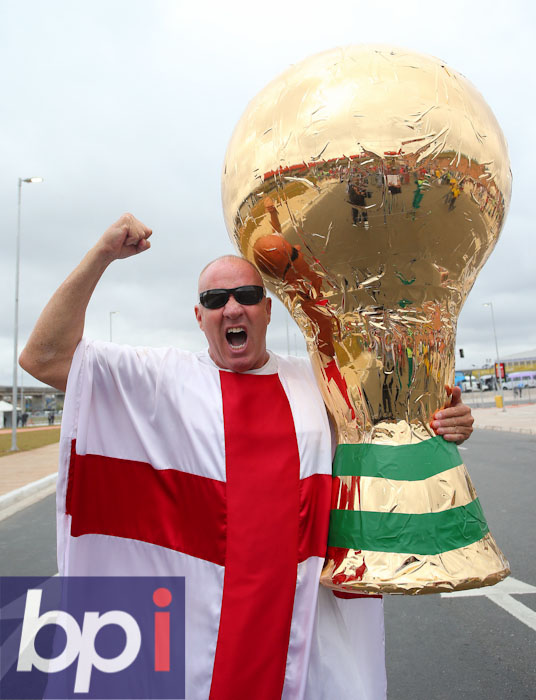 But were left disappointed by one of the most disliked players in English football…
Leaving them heartbroken at the final whistle and praying for a miracle to help them progress past the group stages.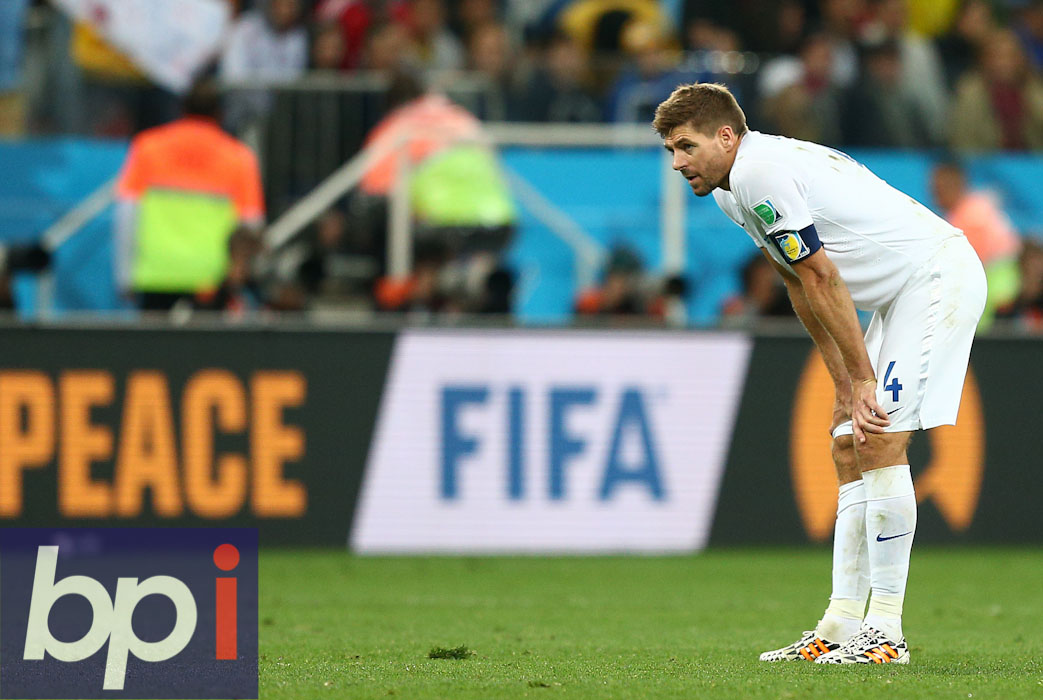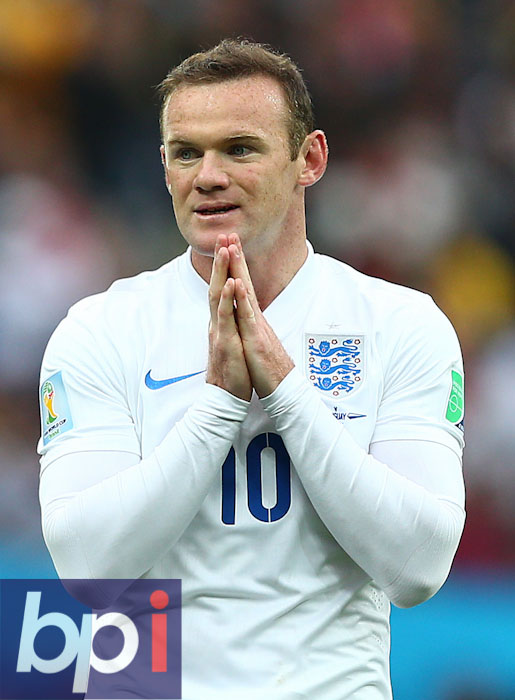 The next day their fate was sealed in Recife with this goal by Bryan Ruiz sealing a 1-0 win for Costa Rica over Italy, eliminating England in the process.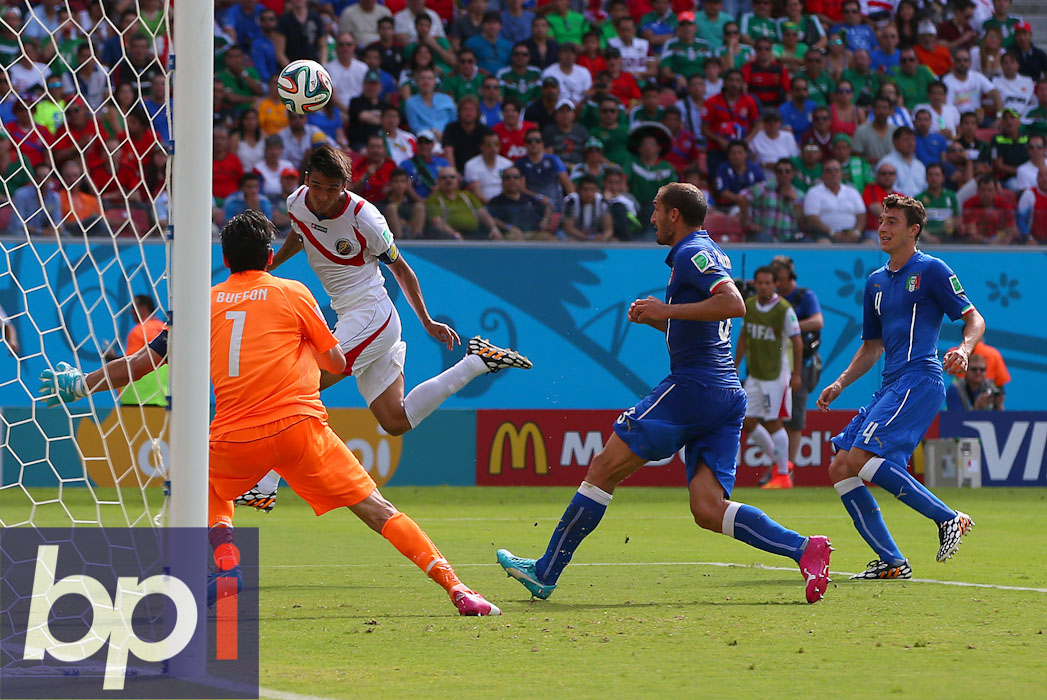 Italy goalkeeper Gianluigi Buffon modelled the latest in goalkeeping fashion, wearing odd coloured gloves and boots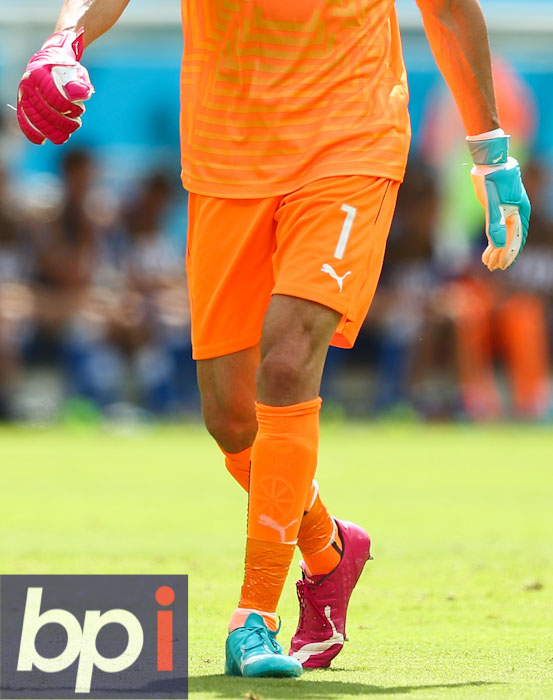 Whilst the supposed whipping boys of Group D celebrated their progression to the last 16, leaving Italy requiring a point against Uruguay to qualify themselves.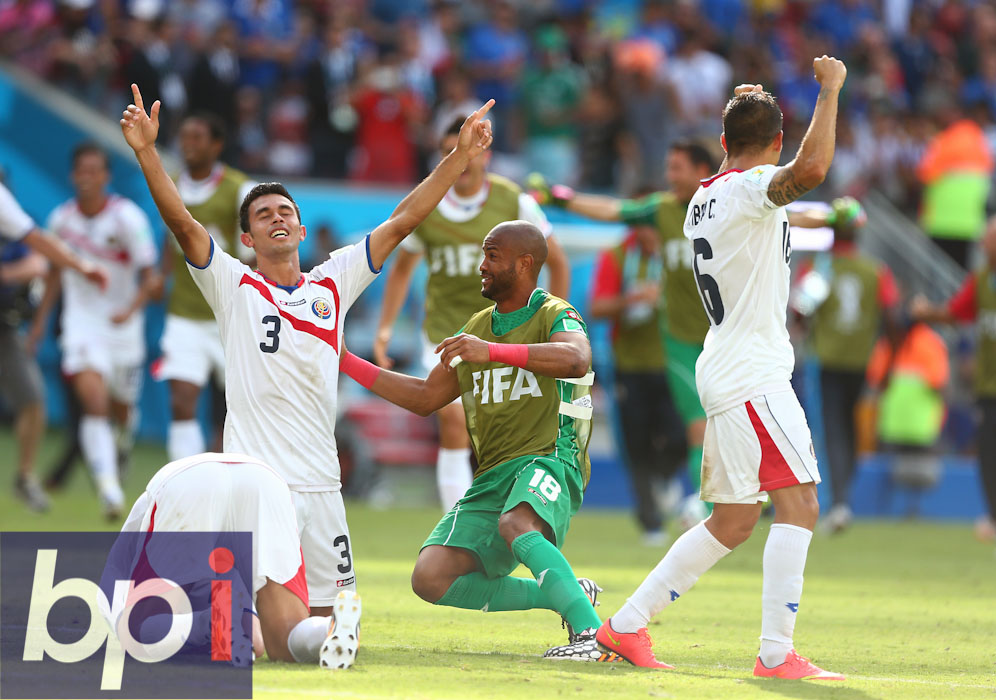 Costa Rican supporters enjoyed the moment and didn't miss the chance to rub salt into English wounds.
From there I travelled to Fortaleza where I got to meet some locals near the Estadio Castelao…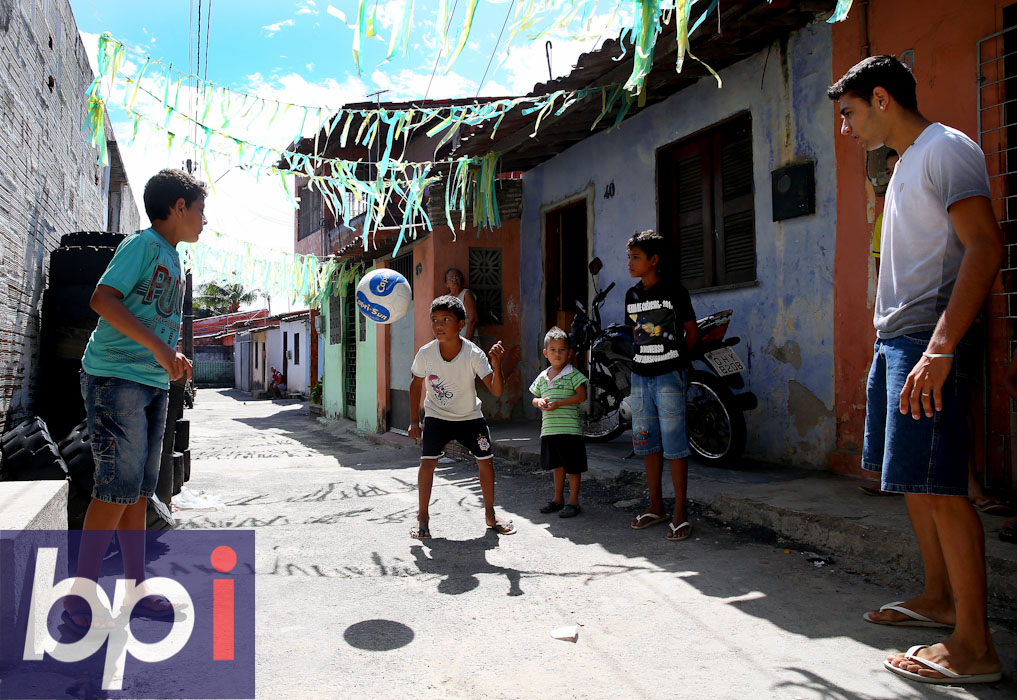 Some fans stood out more than others before the Germany vs Ghana match, for differing reasons
Brothers Kevin-Prince and Jerome were facing each other at a World Cup for the second time, and the first half was a bit pants.
Before 2 goals a piece after the break made for an entertaining second period and ensured there was plenty to play for in the final round of games in Group G.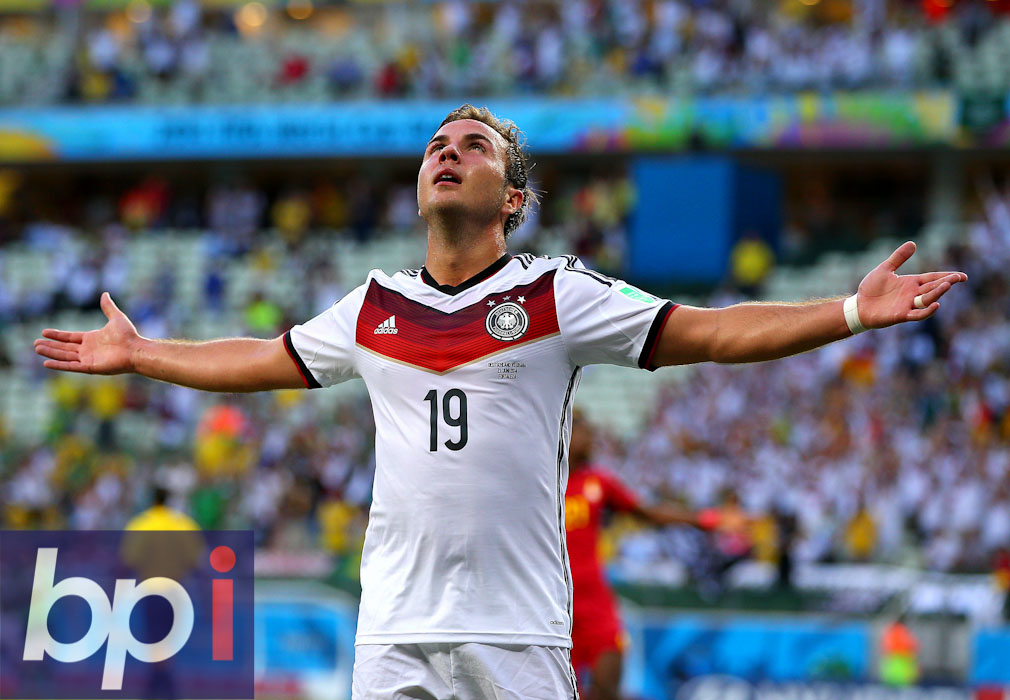 I was on the move again this time heading to Natal for the deciding fixture in Group D between Italy and Uruguay, with Italy showing off a new addition before kick off…Mario Balotelli's fiancée Fanny Neguesha.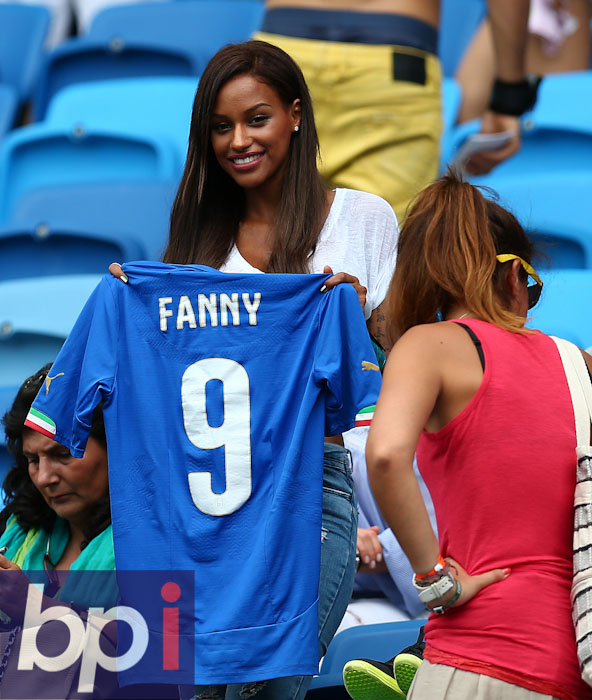 It was billed as the battle of the two madmen…Luis and Mario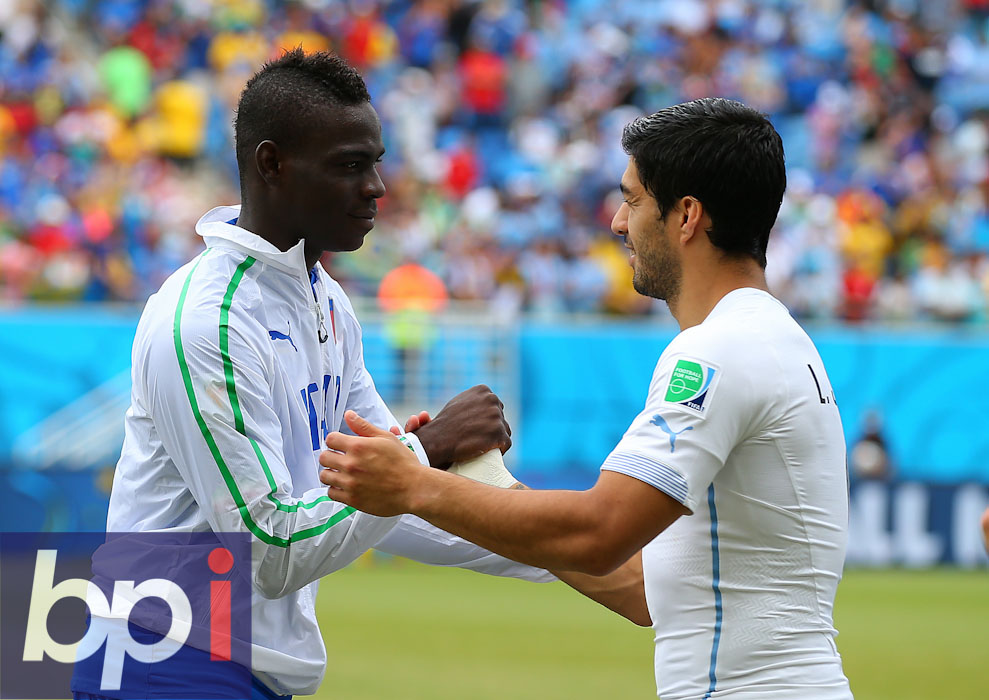 A tight first half in baking hot conditions meant Pirlo and Cavani were happy to strip off at half time
Uruguay went on to win 1-0 thanks to a Diego Godin header, knocking out Italy in the process and leaving poor old Mario upset on the bench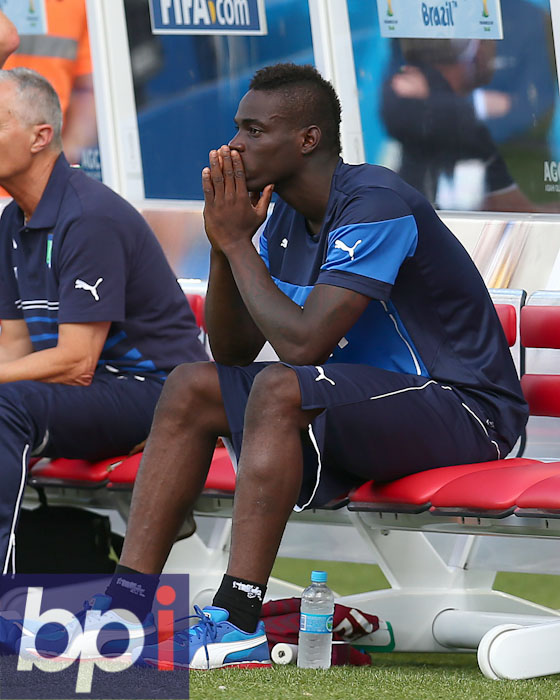 But that wasn't the main talking point after the final whistle as it emerged Luis Suarez had bitten an opponent for the third time in his career. Unfortunately for me, he did at the other end of the pitch meaning I had no decent images of it.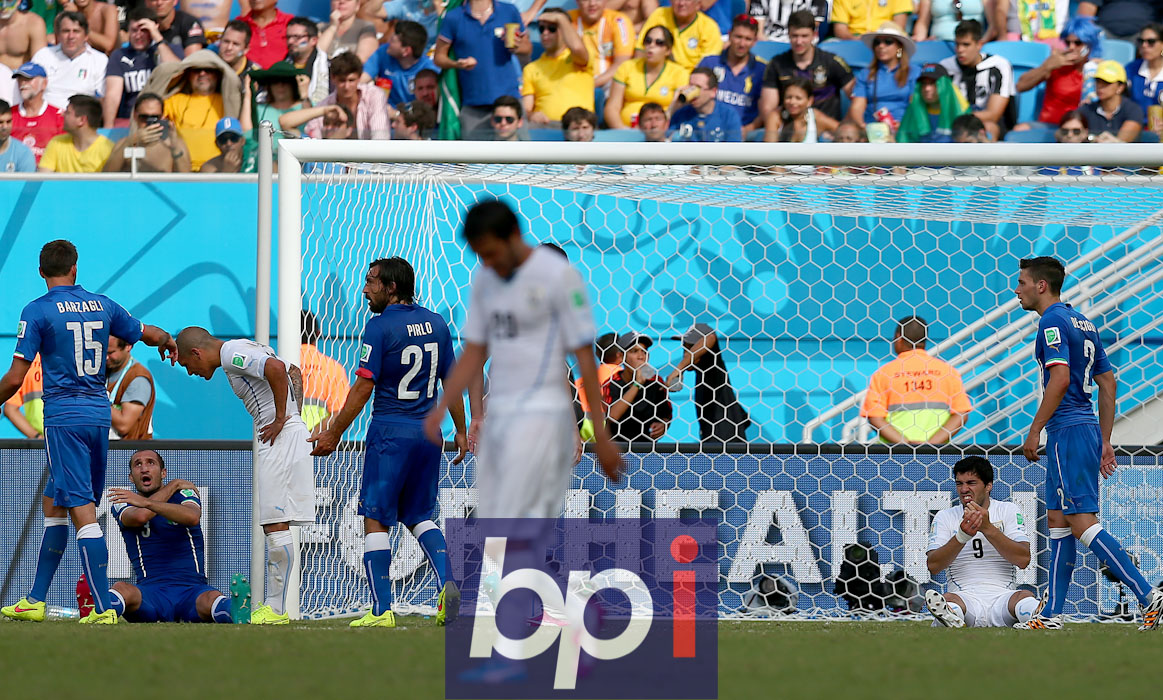 At full time it looked as though he knew what was coming his way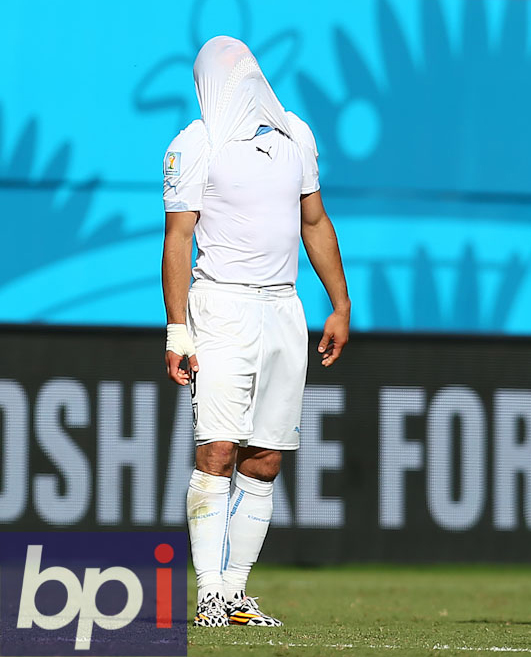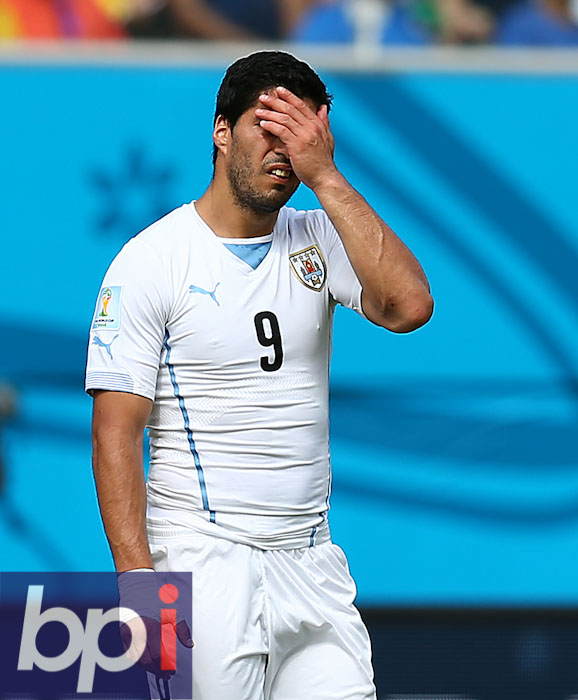 It's since been confirmed he's been handed a 4 month ban from all football meaning we've seen the last of him at this World Cup and possibly in the Premier League with a move to Spain on the horizon.
After all that drama it was back to Recife for my final group game, USA vs Germany with former colleagues Jürgen Klinsmann and Joachim Löw squaring off with the USA requiring a draw to send them through at the expense of Portugal and Ghana.
Travelling on the media bus on the way to the Arena Pernambuco it was clear to see that the heavy rain was taking it's toll on the roads with severe flooding causing major delays in the city centre.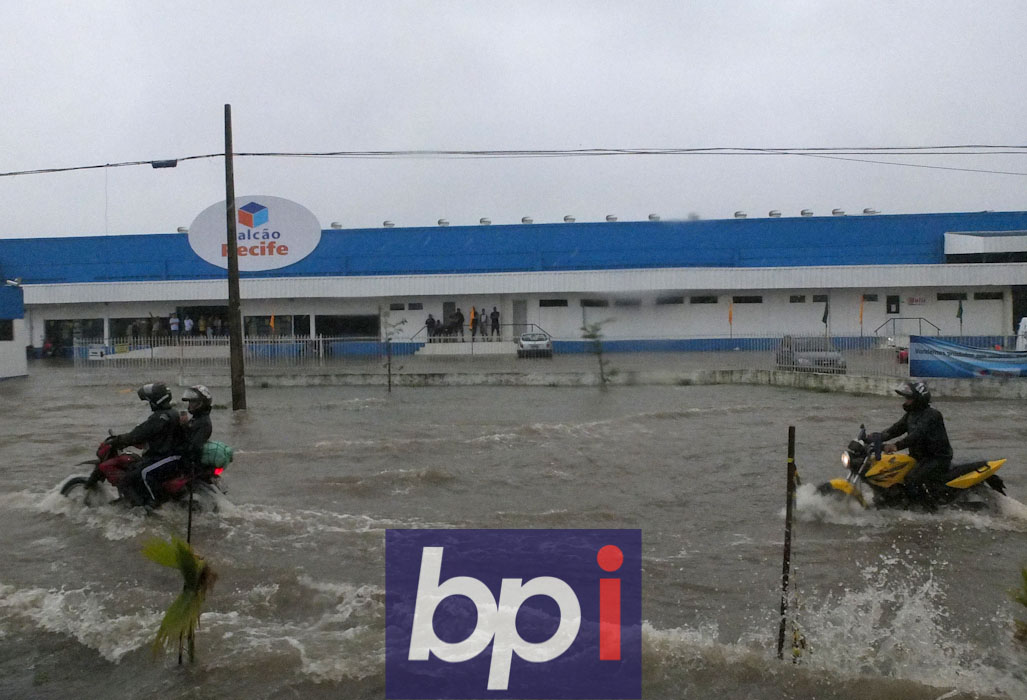 Thankfully the match went ahead and the stadium was mostly full, one supporter coming especially prepared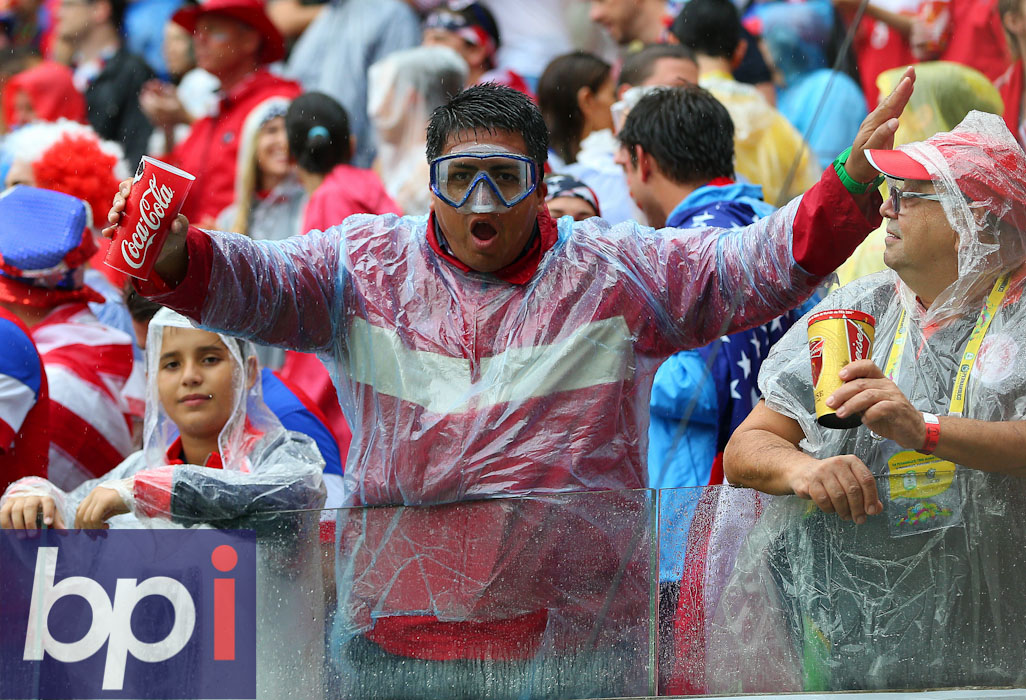 Germany manager Joachim Löw stuck to his guns though and decided against wearing a coat despite torrential rain for the entire match…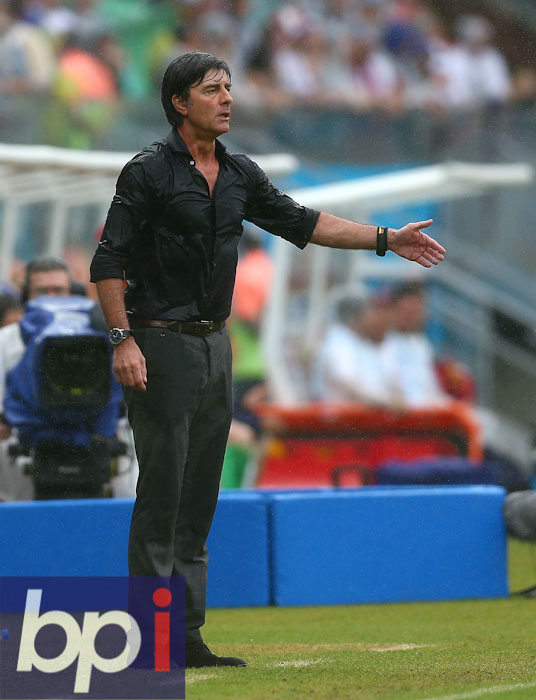 Conditions were so bad German goalkeeper Manuel Neuer had to take action to ensure his gloves stayed dry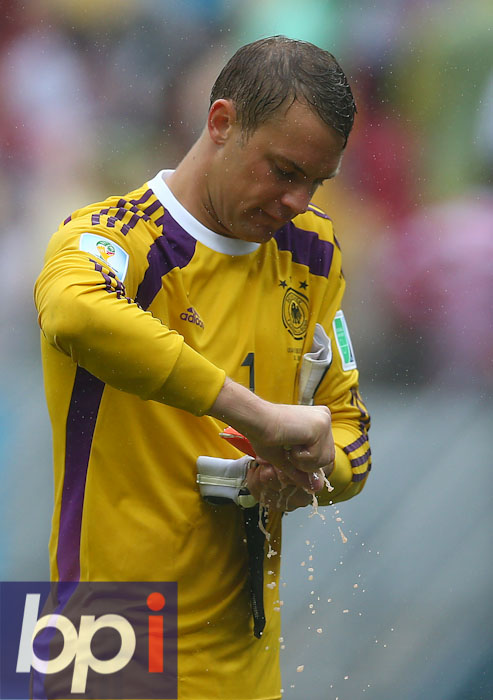 I was impressed by the USA performance, they showed that even with a group of lesser known players you can still perform well at a tournament with good coaching (take note England and Roy Hodgson). They also had some impressive hairstyles on show, especially Kyle Beckerman with his dreadlocks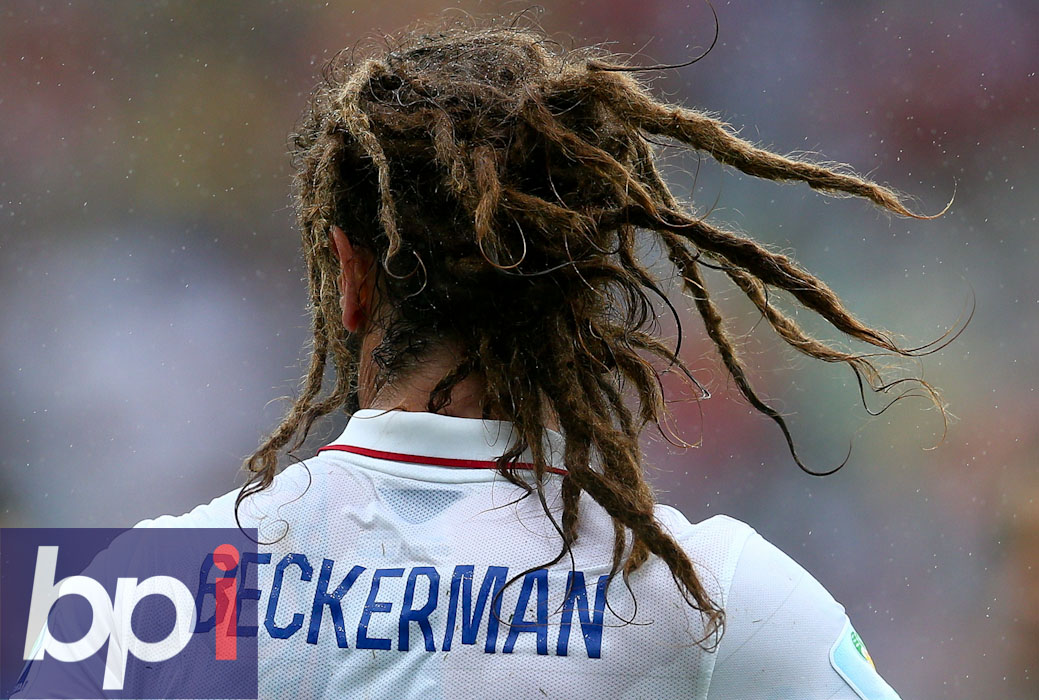 A second half goal by Thomas Mueller saw Germany win 1-0 but due to Portugal only managing to win 2-1 against Ghana, it meant both sides went through to the round of 16, sending the USA players and fans wild as they saw the result on the big screen.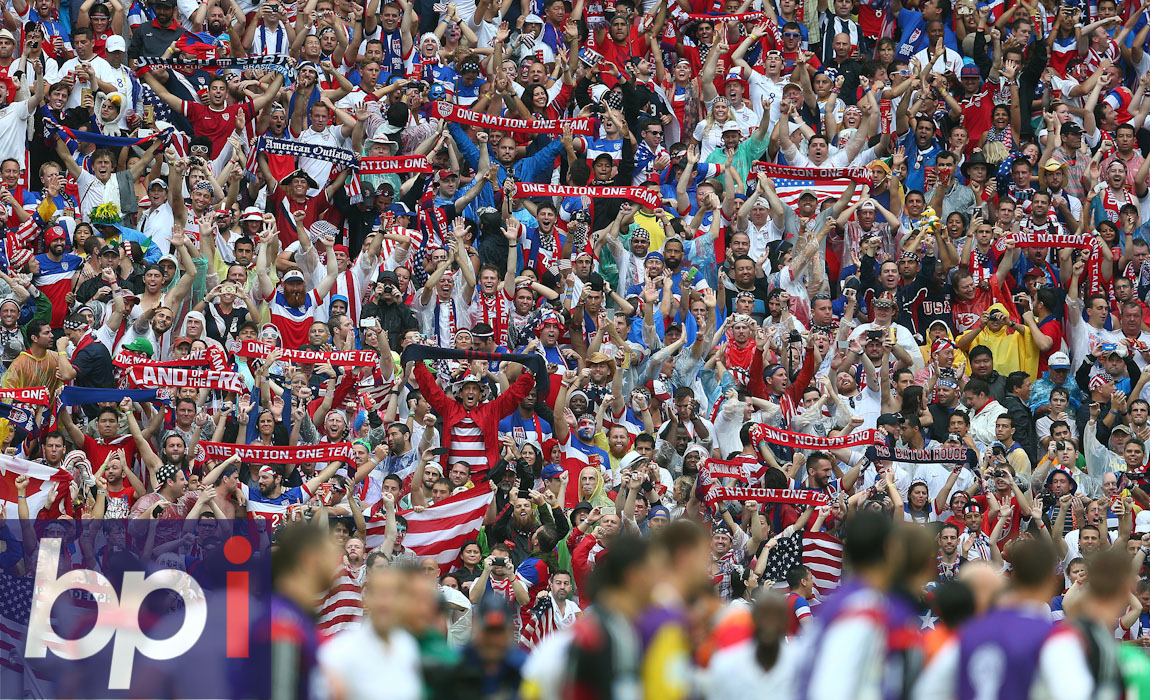 I didn't manage to get the two coaches and friends shaking hands at full time due to tv getting in the way (the one picture I wanted from the game) but Klinsmann, the German coach of the USA had a chance to share a joke with a few of his compatriots at full time which made for a nice picture.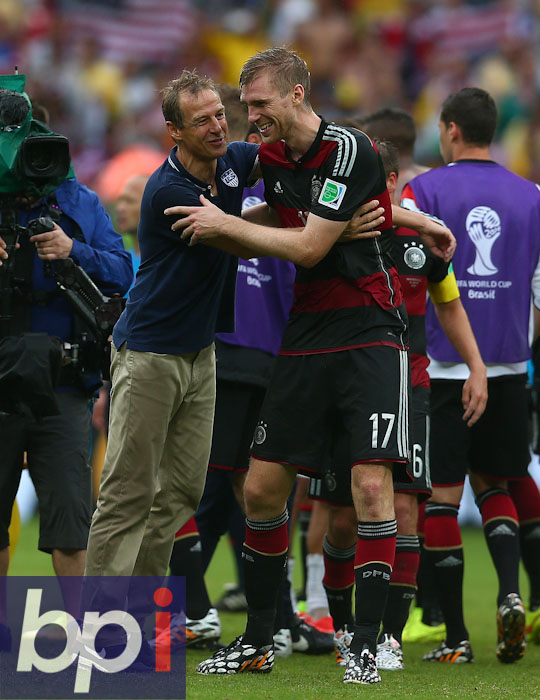 So after 9 matches I move on to the round of 16 where I'll cover Costa Rica vs Greece and Belgium vs USA. Won't get to see the Messi's and Neymar's again yet but hopefully that chance will come later on in the Quarter Finals, Semi Finals and possibly against each other in the Final. Just 6 matches, 7 flights and 20 days before I'm back in the UK.
As always all photos are copyright of www.backpageimages.com, please check out our Facebook page which is being updated regularly with stuff that me and Ben have been up to.